We proudly celebrated another successful year at our May 12, 2018 Awards Ceremony. Since it was started by local volunteers in 1989, Taconic Hills Dollars for Scholars, has awarded $1.835 million to 1225 Taconic Hills Graduates! The Chapter is run by community volunteers who strongly believe in the value of higher education for each student who desires to pursue it in trade schools, 2 year or 4 year Colleges. Dollars for Scholars is a 501(c) 3 organization and all donations are tax deductible.  
Additionally there are nearly 50 named Scholarships given annually that have been provided by various interested Community Members through endowments, gifts or local fundraisers such as Alumni Basketball and Soccer Games as well as the "Remember the Titans" 5K.
How to Contact us? Email us at taconichillsdfs@outlook.com
Upcoming and Recently Held Events
The Scholarship Application process is now closed.  Please join us at our 29th Annual Awards Ceremony on May 11, 2019 at 7pm in the Taconic Hills Performing Arts Center.
A special thank you to the teachers, community members and guidance for their assistance in doing references on behalf of our Graduating Seniors!
Thank you to Stewart's Shops and the community who donated to the Holiday Match. We at Taconic Hills Dollars for Scholars will use this money to help more teens to get ready for their future education. Thanks to all!!!!

January 5, 2019: "The Burger, Bessette, Klima and Rich Alumni Basketball Game" was held on January 5, 2019 at Taconic Hills. It was a great time that honored the memory of these Titans that were lost all too soon.. Thanks to Joe Raco and the help of his family and friends and all of the players.  A special tip of the Titan Cap to our 2019 Sponsors. Thanks!!!
Annual Fall Solicitation Letter Campaign: Once again, we are seeking our Community's Support . Shortly you will receive a letter and our Student Brochure asking for your help in supporting our students for Scholarships that we will be giving out at our May 11, 2019 Awards Ceremony.  Through your generosity, since 1989, we have given out $1.835 million to 1225 Taconic Hills Graduates.  Please take the time to see how your gifts have helped students by clicking the "About Us" tab. We are sorry if we missed you with a letter, so please click on the "Donate Now" tab to donate online, to find our mailing address or to download our Brochure. On our Students & Parents Tab we also have information about Scholarship money for Adults returning to college and working towards an undergraduate degree, certification or license to advance in a current job or prepare for another job as well as a Scholarship for Underclass Students seeking to check out Career Opportunities. (We are a 501(C)(3) not-for-profit organization so your donation is tax deductible.) On behalf of the Graduating Class of 2019 we sincerely thank you!
Class of 2018
September 30, 2018: The 2018 Burger-Laverack TH Alumni Soccer Game and Chicken BBQ was held and as always was a great success!. A special thanks to Ryan Proper and the help of his family and friends in honoring the memory of Justin Burger and Fred Laverack.
Did you know we regularly post on Facebook and Instagram? We are posting pictures of our current Scholarship Recipients, but also will bring you back to the past like this Brochure of 1999. Follow us on Facebook and Instagram so you don't miss a picture. The next one could be of you!!!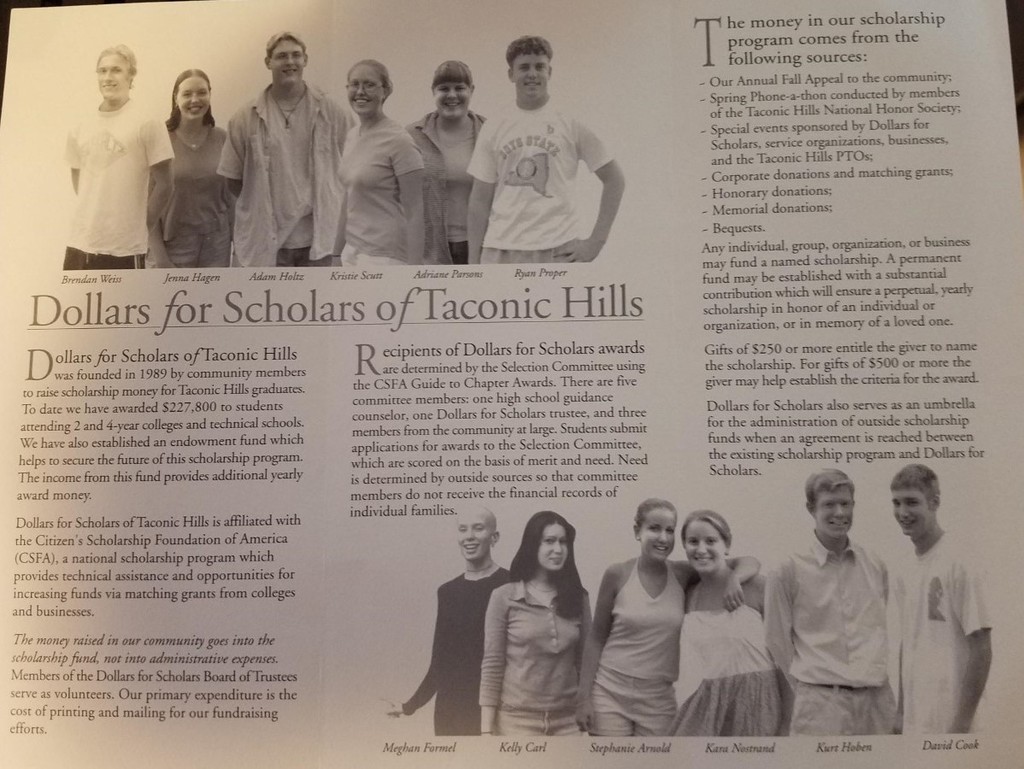 Available for Underclass Members: We have funds available for students currently in Grades 8-11 to help them explore a variety of extra-curricular enrichment programs through our Extern Program that allow a student to explore choices that could lead to an intended career supported by post graduation education or enhance their academic or personal skills to help them to be a better student or participant in their school community. Such past activities supported have included Music Camp, HOBY Conference attendance, Academic Camps, etc. (Sorry Sports Camps are not included.) There is no firm deadline, but money is awarded on a first come-first served basis. See our Student/Parent page for more information and an application. 
May 5, 2018: Our 2018 Awards Ceremony was a great success!  Many thanks to our Donor and generous community for their support of our Seniors. $85,000 in scholarships were awarded to 47 graduating Seniors.  We also thank The Bank of Greene County for their support in helping to underwrite our Award's Ceremony and day-to-day expenses.
What Scholarships Mean to Our Students
"My first semester in college has been amazing. Because of the scholarships I received I was able to attend the college of my dreams. I have made so many friends, love my courses, and next semester I'm getting to attend a leadership conference on how  to better my schools volunteer club. The scholarships that are awarded to students like me change students lives. Thank you! Liz Bray Class of 2015
"I would like to say thank you for the Dollars for Scholars Scholarship Award. It is a big help toward pursuing my career as a Radiologic Technician.  It is greatly appreciated.""  Nadeane Boice Class of 2015
"I was pleasantly surprised the night of the Awards Ceremony when I was awarded the Rheinstrom Hill Community Foundation Scholarship.  I am currently registered at Columbia-Greene Community College in the Nursing Program.  For several years I have had the desire to become a Registered Nurse.  This scholarship will assist me a great deal in becoming a RN." Emily Foutch Class of 2015
"I wanted to thank you for your generous scholarship.  This scholarship will aid me to fulfill my dream of achieving an AOS degree in auto mechanics from Alfred State." Ben Elster Class of 2015
How You Can Help Our Students
To keep the Taconic Hills DFS Chapter  active, we always welcome people wanting to share our vision.  
Please consider working with us for the benefit of our local students.
For further information please contact:  Taconic Hills Dollars for Scholars at our NEW Mailing address: PO Box 1119 Philmont, NY 12565, "like" us on Facebook for meeting dates and times or email us at taconichillsdfs@outlook.com.
 How Can Students Apply For Scholarships?
Go to our Students and Parents page linked at the top of this page.  It is your go-to place, along with our Facebook page, for scholarship information!  
Exciting Scholarship Opportunity: We are very pleased to announce revised guidelines for the Gavin C. Gray Non-Traditional Student Scholarship.  Most scholarships are geared towards new High School Graduates. This one has as a target, "Students" ages 21 and above and it is for many types of education. There is NO upper age limit. For complete information AND an application go to our Student/Parent Page and open the tab.
Follow Us on Facebook
Click the Facebook icon in the upper right corner and "like" us to keep up on current Taconic Hills DFS News!